Learn more about Dewatering Screens
2016-12-13
Dewatering Screens have a wide variety of applications including dewatering, desliming, degritting, rinsing, scrubbing and washing. They are designed to produce a consistent drip-free product, which is typically 10 percent drier than a Fine Material Screw Washer. Materials such as sand, gravel, crushed aggregates, frac sand, industrial sands, mineral sands, hard rock, precious metals, coal, iron ore, salt and other granular materials can be processed through a Dewatering Screen.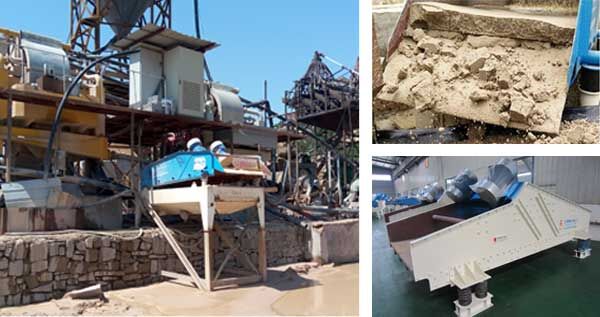 To dewater material effectively, slurry is fed onto a steep, downward inclined screen surface at the feed end of the Dewatering Screen to achieve rapid drainage. A pool of water begins to form in the valley as material builds up on the slightly upward inclined surface. Counter rotating motors create a linear motion, driving solids uphill, while liquid drains through the screen media. The uphill slope of the screen, along with a discharge weir, creates a deep bed that acts as a filter medium, allowing retention of material much finer than the screen openings.
Ts dewatering screen adopts dual-motor self-synchronization technology. Motors coordinate with universal eccentric and adjustable amplitude vibrator. when dual-motors start to work,centrifugal forces which generate by the eccentric models will superposition themselves and forming a single direction vibration. The high frequency drive vibration drive of the screen will line move back and forth in line repeatedly.
Please enter your inquiry and contact. We will reply you as soon as possible.