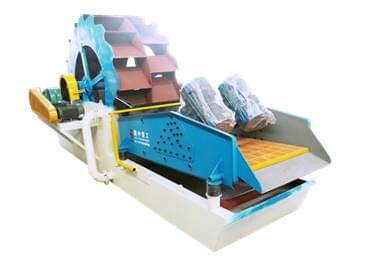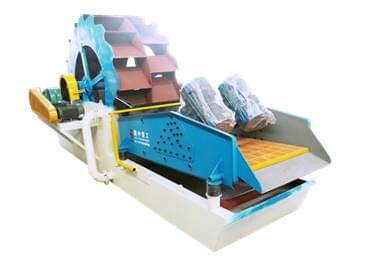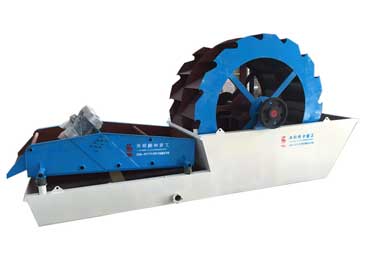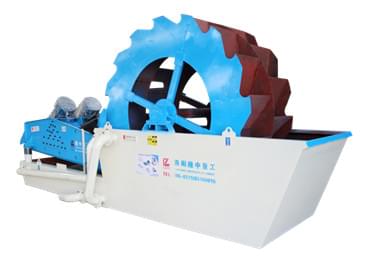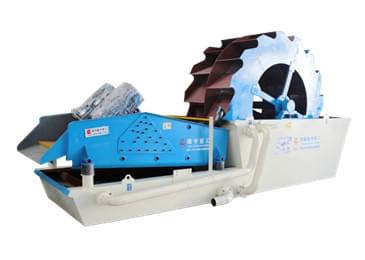 XS sand washing & dewatering machine
No matter which kind of sand washer used in sand processing plant, the final sand always contains a large amount of water. But dry sand is needed by most of customers. In order to solve this problem, our company researched and developed XS sand washing & dewatering machine successfully, which combined washing with dewatering functions. It perfectly solved the above problem.
Working principle
The work style of this series sand washer is rotary and movable.
The bucket is driven by motor through reducer and rotates in circle. There are many sand storage web grooves in grille form. When the bucket moves, sand can be put out by storage web groove after being cleaned, waste water outflows through web groove's holes. Meanwhile the washed sand will be fed into PU screen directly for dewatering. In the process of sand washer is running, sand is discharged through the feeding groove. Sand washer can circumrotate and discharge sand periodically by motor's continuously running, which can realize the batch production. It works the same as XSD sand washing machine. After vibrating and dehydrating on the PU screen, dry sand is the final product.
Features
1. Sand washing and dewatering machine integrated sand washing machine, dewatering screen two kinds of equipment advantages and characteristics.
2. Greatly reduce the sand in the mud, water, dust, impurities and so on, improve the sand and the price.
3. Energy saving and environmental protection, low energy consumption.
4. The whole machine installation, convenient and fast transportation.
5. Low failure rate and long service life.
Specifications
| | | | | | |
| --- | --- | --- | --- | --- | --- |
| Model | Power (kw) | Feed size (mm) | Production (t/h) | Weight (kg) | Overall Dimension (L*W*H)(mm) |
| XS1026 | 9.9 | ≤10 | 30-50 | 5180 | 6022*2150*2730 |
| XS1630 | 19.4 | ≤10 | 50-120 | 7300 | 7200*2900*3070 |
| XS2036 | 24.5 | ≤10 | 120-180 | 9450 | 7200*3000*3600 |
Send Message
If you need the latest price list, please leave us a message here! We guarantee that your information will not be divulged to the third parties, and we will reply to you within one working day, thank you.