Vibrating Screen and Sand Washing Machine are used in Wet Production Line.
2017-08-29
Vibrating Screen is a multi-layer, high efficiency and new vibrating screen. It can do cycle motion. Circular Vibrating Screen can adjust amplitude by eccentric shaft exciter, which has many advantages, such as long sieving line of materials, many specifications of sieving, strong excitation power, reliable structure, high efficiency, low vibrating noise, wearing, easy maintenance and using safely. The Vibrating Screen can be used in grading of mining, construction, transportation, energy and chemical industry. The main composition is screen box, screens cloth, vibrator, damper spring, chassis, suspension gear and motor.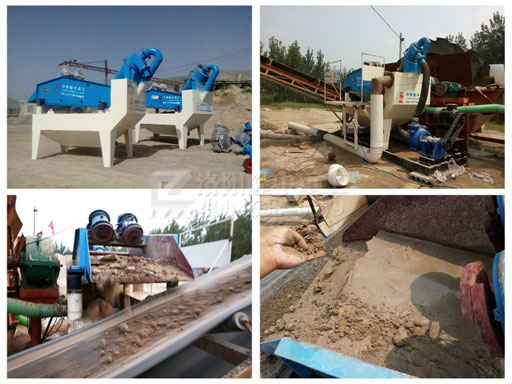 Sand washing machine is also called stone washing machine, which is widely used in washing impurity, mud and powder in sand materials. Sand washing machine is used in desliming and screening of construction site, quarry and other ore selecting .
Sand Washing Plant is composition of motor, slurry treatment system, high press pump, clean tank, return box and TS dewatering screen. The most important parts about Sand Washing Plant are slurry treatment system and dewatering screen.
Sand washing machine can match vibrating screen to apply to wet sand production line.
Please enter your inquiry and contact. We will reply you as soon as possible.