10-20t/h small and portable sand washing plant
In general, sand processing plant is large scale, so big capacity sand washing plant is needed from more customers. So most manufacturers are trying to make the equipment bigger to meet customer's requirements.
But there is an opposite side to everything, with more and more customers and more and more abundant customer's needs, we found the small and portable sand washing plant is also needed for small working site. So we decided to design and manufacture a kind of small sand washing plant, and decided the capacity is 10-20 tons per hour.
Through the joint efforts of technicians, production department and everyone, and based original equipment, this new product was launched in October last year.
Along with this, we made a return visit to customers who had consulted on the small washing plant in the past. There are several customers are very interested in it. So we send the detailed specifications and pictures to them. In a few days, there are three customers placed the order. The customer feedback the working video in working site after the sand washing plant using.
You can contact us if you just need small and portable sand washing plant.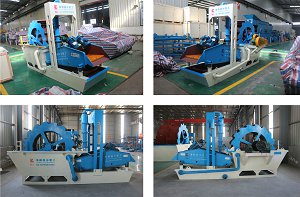 Please enter your inquiry and contact. We will reply you as soon as possible.