Mining Production Line With Sand Washing Machine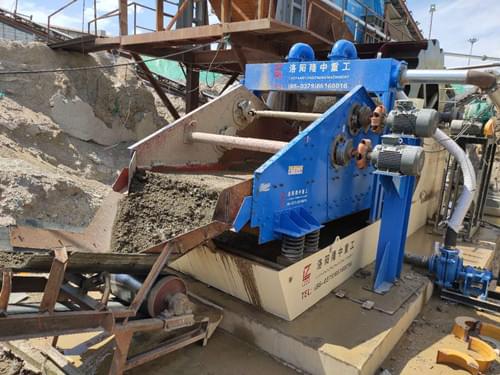 1. Hopper with feeder (storage raw materials)
2. Connect with belt conveyor to vibrating screen, top deck with water nozzle to wash, big sieve hole to sieve >10mm sizes secondary deck with smaller hole to sieve 0~10mm sizes
3. Wet sand mix is flowing into a magnetic separator, remove major iron content.
4. After iron removing, wet sand is feeding into wheel sand washer, keep feeding in clean water,to help wash and screen >3mm sizes sand; the fine size sand is mixed with waste water into water tank, slurry pump extracts fines liquid into hydro cyclone, by gravity fine size >0.16mm is sprayed from cyclone onto dewatering sieve for dewatering.

Please enter your inquiry and contact. We will reply you as soon as possible.